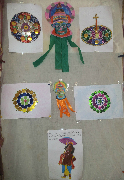 Onam Ashamsagal!!!Happy Onam!!!
Onam is the harvest festival of Kerala, India and Ekadaksha was filled with the smell of flowers. All children brought flowers of different colours and smells. Each class - Explore, Express and Experience - made designs of Pookolams (beautiful flower decorations). These Pookolams were displayed along with colourings of King Mahabali and Kerala dancers.
After relishing the famous 'Banana chips' of Kerala, target games were played. The childen were divided into two teams who were given points based on their performance. They had to throw a ball through a hoop and then throw a ball at a target.
Music is always a part of any Indian festival. They listened and danced to the tunes of songs for Onam. Click here to see pictures of a lovely Onam.