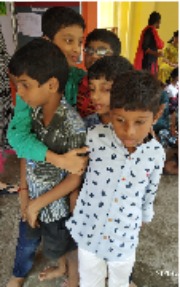 The first sunday of August is celebrated as Friendship day all over the world. There are so many sayings about Friendship and one of them rightly says that 'A sweet friendship refreshes the soul'. Indeed everyone needs a friend - to lean on, to talk to, to have fun and to be yourself. At Ekadaksha, we see some friendships blooming in subtle way, and we wish that could carry on forever.
This friendship day was all about fun and letting loose. The children played games and then just chilled out with their friends. The games included 'oranges and lemon with a twist' and 'run, stop,pick a particular number of friends'. It was chaos, it was great fun. The children could do what they like to do best, run and jump and play...And then there were happy group hugs:-)
Here is a glimpse of the celebration of friendship.
The children who come after their school for remedial have also made friends at Ekadaksha. All of them are able to understand each other and know that they sail in the same boat. They tied friendship bands for eachother, played interesting games and ended the session dancing with full energy and josh:-)