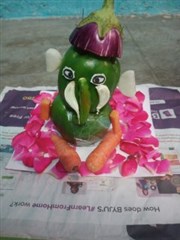 Happy Birthday to one of our Favourite Lords - Lord Ganesha. A jolly, food loving God who spread happiness and prosperity to all. This year, to celebrate this festival, the children made special art for the Lord - Click here to see the artwork for Our Beloved Lord Ganesha.
Apart from the children were taught how to make an Eco friendly Ganesha from vegetables and materials at home. This was such a pretty and colourful sight. The video is available on Ekadaksha's you tube channel. Click here to make your own Eco friendly Ganesha. You can also teach a child a simple way to draw Lord Ganesha with His pretty Umbrella. Click here to make your own Ganesha drawing.
HAPPY GANESH CHATHURTHI. May peace, happiness and prosperity spread all over the world.