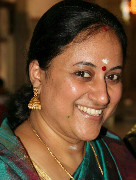 Bharathi Balarajan, special educator and mother of a special child. A graduate of Commerce, she has completed a Diploma in special education. An experienced special educator,she is dedicated to working with children with special needs.
"Seven years of exploring, expressing and experiencing with ELC has made our aspirations higher. ELC now has a strong foundation. Among its many improvisations during its growth ELC has developed effective communication with parents, which in turn has blossomed into a beautiful school-family relationship. Each year has been a step for progress in our children's independence and their parents' faith as well as their teachers' morale.

As has been truly said, 'A teacher takes a hand, opens a mind, touches a heart and shapes the future.' ELC has always believed that the three-way relationship between child, parent and teacher helps each child to achieve his or her full potential. The belief has only become stronger."