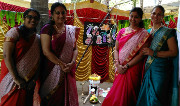 Its Pongal time again - The harvest festival of India. The children participated in the Pongal Puja and most of them loved the Sweet Pongal made by Kanaka Aunty. The highlight this time was the traditional Pongal games which were played at the Center. The 3 groups - Explore, Express and Experience - participated in different games.
The Sack race:
The smallest children of the Explore group had a sack race where each child got into a sack and walked as quick as they could. This was won by Safa Fathima.
The Tyre race:
The Express group rolled tyres and raced from one end to the other. Kamalesh Nicholas won this race.
The Balancing race:
Is it hard to balance a beanbag on your head? Well, the Experience boys balanced 2 bean bags on their head. They had to walk from one end to the other as fast as they could without dropping the bean bags. Abishek Haridas was the winner of this race.
The teachers race:
The teachers too had a race:-). They had a bun eating competition. Buns were hung from a rope and one had to eat the buns without using their hands. It was indeed a fun competition. Mrs. P.Nithya won this race.
Click on this picasa web album to view the children and teachers participate in their races.